YOGO
---
RESOLVING MIND, BODY AND SOUL WITH ITS AI ENABLED SMARTPHONE BASED CLOUD IOT SOLUTION
We participated in a digital transformation program for a European entity. This program required POC of digital component to measure, track, trace, analyze and recommend inputs to manage human physical, mental and emotional energy for improved performance. We conceptualized, architected an IOT based AI supplemented smartphone mobile app with cloud interface for user, coach, program director and Client Head. The real time physiological parameters were captured by a smart band worn by the end user participating in the Program which allowed the linked app to convert the raw data into analytical time based information of the energy levels.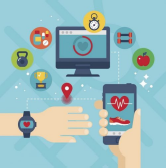 Set your physical parameters
 Define goals.
 Track daily / weekly / monthly trends.
 See your heartbeat per minute.
 Tracking and encouragement from Digital Mentor.
 AI component enables you to check calories, carbs, proteins of your       meal real time.
 Info of your sleep, activity, HR, stress, fatigue, body quality, heart age are all a tap / click away.
 Avail advisory services of our coaches.
The solution also included the concept of a e-Coach who could suitably advice the end user based on multiple physiological parameters relevant to the individual. For more information, please see the enclosed PDF.